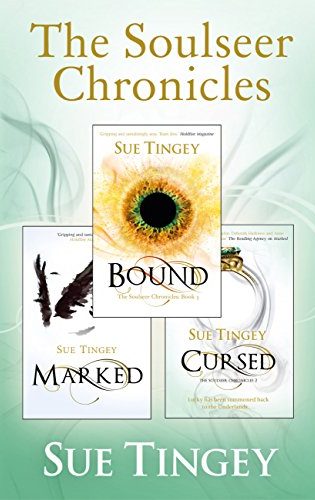 Sue Tingey – The Soulseer Chronicles
Team Jamie or Team Jinx? Which handsome hunk will Lucky choose – once she's dealt with the demon assassin on her trail, that is?
Lucky's always known about her own psychic powers – after all, her closest friend is a ghost – but she knows nothing of her long-dead family . . . until a daemonic assassin brings a message that drags both Kayla and Lucky down to the Underlands – and into the political fight for the daemon king's throne.
Lucky's determined to find her way home, but Jinx and Jamie have both marked her – and now she's not sure she even wants to escape the loving attentions of her handsome winged Guardian and her devilishly charming horned Deathbringer.
And if she stays, she might just find out who she really is . . .
'Reads like the Sookie Stackhouse series combined with the sinister undertones of Neil Gaiman' Neverwhere' says Booklist